I was on beauty products hiatus when I was pregnant. Can you imagine my excitement when I finally allowed myself to use them already? haha. Above everything else, what I missed is giving my hair TLC (because I still get to apply makeup during special occasions that time).
A few months ago, I got a very nice
haircut
. Then I colored my hair lighter by myself.
(Sorry this is the only decent photo I could find that shows my new hair color)
My hair is kinda stubborn. I just discovered on my most recent haircut that I have a hair whorl near at the back of my neck that's why my hair flies away when I get lazy to dry it properly. It's hard to manage that way. Two hair treatments that I'm testing and I'm loving for the past month are the
L'oreal Total Repair 5 Repairing Treatment and Night Essence
.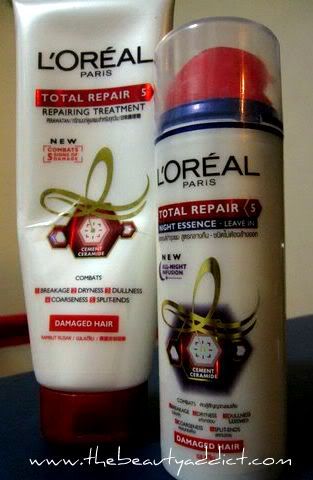 Product Description:
Helps hair become nourished, stronger, shinier, smoother and with less split ends with day to day use. Its active ingredient called "Cement-ceramide" fills in hair cracks to seal hair scales. Thus, the result is stronger and more resilient hair.


What I like:
My hair became more manageable, shinier and smoother since I started using these two.
It weighs down the hair. (So I suggest that you don't use them if you're going to style your hair with curls or up-do's)

The scent is very pleasant.
The repairing treatment is very easy to use. Just leave on to the hair for 1 to 2 minutes after shampooing then you can rinse already.

I love the night essence to much. I apply it after shower before going to bed. Then, the next day my hair smells nice, no tangles and dry.
Very nice packaging. I especially like the pump of the nice essence.
What I don't like:
My scalp is a little bit sensitive so when I tried using them daily, I had flakes. I switched my usage to thrice a week instead and they worked the way they're supposed to.

Our hair gets easily damaged when it's exposed to the sun or other harsh chemicals that comes with hair styling products so hair treatment is very important. The L'oreal Total Repair products are quite affordable and effective. I love hair treatments that I can do at home by myself because it saves time and money than going to the salon regularly.
Have you tried these products? How's your experience?
L'oreal Total Repair 5 Night Treatment - SRP P355
L'oreal Total Repair 5 Repairing Treatment - SRP P265