Another addition to my
bridal portfolio
. What I was most happy about was when I received this comment from
Phantom Critic
: Love the hair and makeup. Nice cascade of locks over the shoulders and great skin tones and eye definition. Thank you so much *teehee*.
A friend recommended his friend, Stef, to become my canvass for my bridal portfolio. A sweet-looking 22 yr old girl who I believe has the "it" to model. On her makeup, I concentrated more on achieving a flawless and glowing skin then put on the traditional color for a
bridal makeup
.
To create a flawless face, my fave combo:
MAC Studiofix (NC42), Paul and Joe dual foundation 40 and Revlon Translucent Loose Powder
. It worked with almost all of the faces I've done hehe.
Eyes: MAC Ricepaper, MAC Satin Taupe, MAC carbon, Maybelline Cat Eyes Mascara, Urban Decay Eye Liner Zero
Cheeks: MAC Blush (Mocha), Paul and Joe Face Color 01
Lips: Artdeco (shade to update)
I'd like to thank the following people for helping me with this shoot:
Photographers: Lee Tallod,
Oliver
Tam, Tyron Ty and Dennis Tan
Model: Stef Endozo
Gown: Sheah of sheahdesigns.multiply.com (Thanks for letting me use one of your creations on this photoshoot Ms. Sheah)
**********Personal Update
I went to my OB a while ago to have my first ultrasound and found no problems. My baby has a heartbeat!!! Yay ***time to celebrate****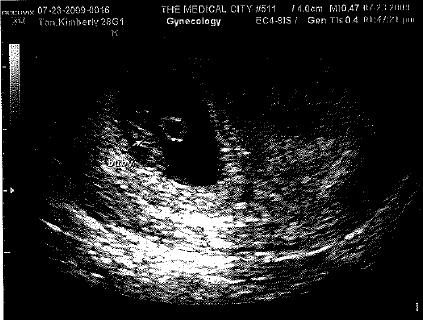 Sorry for the blurry image..I think our scanner is busted haha.
Thank you so much for those who prayed. Now I'm so excited to meet this little one :)