Pink and Purple Evening Look
A month after our graduation in makeup class, I went back to Basement Academy to have a refresher in the
"Evening look"
subject. I want to master it and I need to keep on practicing to progress right?
It was fun meeting another batch of students. I can't help but smile when I think back our unforgettable experiences in school. Miss you Nikki, Shen, Stef, teach, Jeave and Blue
Here's Michelle Cabanyon, my model. She's very timid and a nice girl. I didn't have a hard time doing her makeup.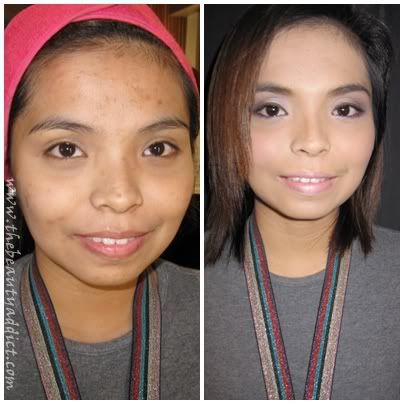 Here are the products I used on her:
Face:
MAC Studio Fix NC30 mixed with a little Faceshop Dark Cocoa
Paul and Joe two-way foundation 40
Revlon Translucent Powder
Eyes
Urban Decay Sustainable Shadow Box (pink and purple)
MAC Carbon
brown e/s from Coastal Scents 78pc palette (brows)
Cheeks
Artdeco bronzing compact 03
Pink blush from Coastal Scents 78pc palette
Lips
In2it (shade to follow)
Teach asked us to do how we want to look when going out on an evening date or on a night-out with friends. Here's my version.
Now it's your turn to unleash your secret on doing your evening look? =D Ciao!