The exotic features that make up the beauty of a Filipina is indeed something to be proud of. We have straight, black hair that tumbles down softly in waves against our shoulders. Our dark eyes gaze at you sincerely, captivating you. Our small noses don't stand out from the rest of our faces, rather it seems the perfect finishing touch. And our skin color is just right: not too pale, and not too dark, just the perfect shade of a golden brown. -
www3.niu.edu
Here's
Cristal
, a perfect model for the Filipina Beauty. She modelled for me in one of our shoots a few weeks ago.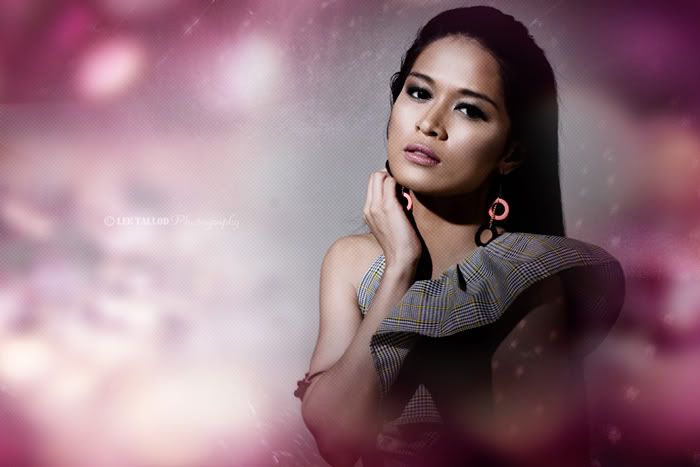 To achieve this look:
Face:
The peg that was shown to me was a bronzed look but she doesn't want to appear too dark in the pictures so I just did a little bronzing. Use the darkest shade of Loreal True Match foundation mixed with a little Faceshop Dark Cocoa (great in achieving the shade you want). Set with Paul and Joe dual foundation 40 for a smooth finish then dust with Revlon Translucent Powder.
Eyes:
Line the brows with any dark brown e/s. Use a gold base for the eyes then deposit black e/s on the eye lids. Blend blend blend. Line the upper and lower lashlids with black eyeliner. On her, I used Urban Decay 24/7 liner in Zero. Curl and apply mascara.
Cheeks:
Contour cheeks and sides of the nose with Artdeco Bronzing compact 03. For the blush, I used a peach shade in the Coastal Scents 78 pc palette.
Lips:
Lastly, use a rosy pink shade of lipstick for a softer look.
CREDITS:
PHOTOGRAPHER:
Lee Tallod
MODEL:
Cristal Mendoza
HAIR AND MAKEUP:
Kim Rodriguez

WARDROBE:
Renz Pangilinan
ACCESSORIES:
G.L.A.M
LOCATION: Rouge Studio