Hi everyone! ^_^ yawns ^_^ I've been sleep-deprived for the past 2 days. I have to spend 9 hours in the office then proceed to the Basement Academy for my makeup classes until 11pm. I'll have to do this this until Thursday next week whew! But in despite of that, it's hella fun! What made it more exciting is that
Shen
,
Nikki
and Steph were my classmates :)
First Day: Our teacher, Ms. Cheryl Cabanos, discussed the tools we need, theories and concepts, and did a demo on how to create a non-makeup look. Then, we applied what we learned on our models. Our teacher gave me a grade of 10 for this look yey :)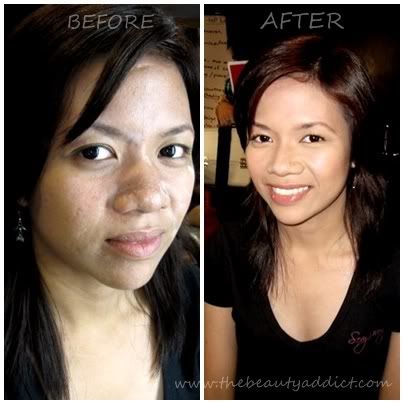 Model: Mariel (model was provided by the school)
Will give you more details soon :) I can't think right now sorry. I've already started building my
portfolio
in Multiply (see the link on the left bar).
-------Tag
The very gorgeous lady and the queen of cutting crease
Anastacia
awarded me. Thank you sooo much girl :) *hugz*
Terms & Conditions For the Award Recipient:
1. Paste the Award Logo in your blog
2. Give out the award to 10 Blogs that you feels the most inspired and most friendly.
3. Make sure u back linked the recipients' blogs to your blog.
4. Inform the recipients about the award by leaving them comments on their blog
5. Give some love to the person who give you this award.
10 blogs I feel most inspired and most friendly??? hmmm it's so hard everyone in blogger is friendly and almost all are dedicated to what they love...if I forgot someone it's because I'm hungry and sleepy ayt? :) Well, aside from Anastacia:
Nikki
,
Tuniez
,
Shen
,
Donnarence
,
Nehs
,
Teeyah
,
Aquaracer
,
Soapaholic
,
Chrissy
,
Mymyganda
That's all...Ciao =)