Several years ago, we would travel all the way to Broadway Avenue just to buy a box of ice cream cake at the Magnolia factory. Very seldom could I satisfy my craving because that was the only store I know available at that time and it's quite expensive! But have you noticed the kiosks of Bake and Churn slowly popping up in the malls lately? Now I am glad because I can have ice cream cake whenever I want to and very affordable too.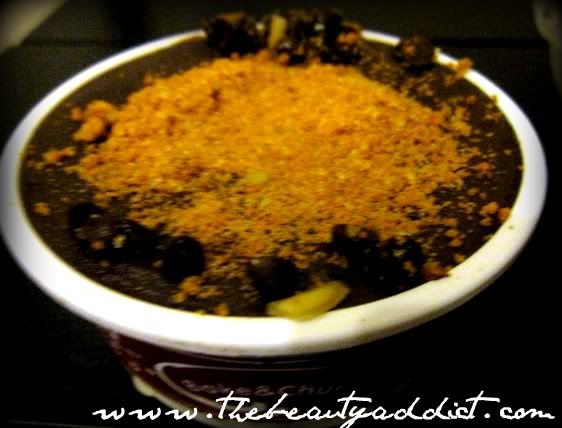 Chocolate Panache Chilly Cup - Moist chocolate cake on top of ice cream with chocolate chips and I don't know what that yellow topping is (I've yet to ask :))
At P45, it's a very affordable combination of my favorite desserts: ice cream and cake. This is the usual "pasalubong" of my husband whenever he goes out and it really makes me giddy everytime! If you ask me if it's still good after an hour of travel? Yes it is! Bake and Churn ice cream cakes can last up to 3 hours even without refrigeration.
I can't wait to try their Chocolate Mousse, French Chocolate, Cookies and Cream, Concorde, Rocky Road and Mango Sansrival ice cream cakes!