FAQ's About Wedding Coordinators


My husband and I got married January 2009. It's been over a year but the memories are still fresh in my mind. When we talk about it, we feel like we're the happiest couple that day.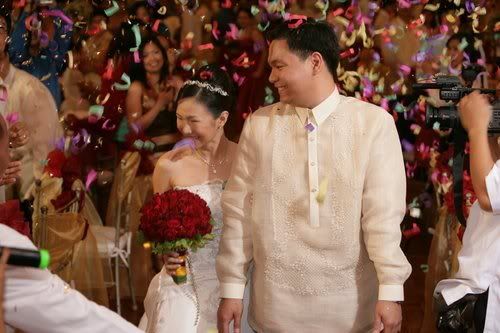 Photo taken by Smart Shot Studio
Our budget for our wedding was very limited. We wanted it to be very fun and memorable not only for us but for our guests as well without blowing all our savings. Each detail was carefully planned (Thanks to my in-laws for helping). But I realized that even if I have friends and family to help out, doubt still reigns and I still feel clueless on what's gonna happen on the most important day of my life. And so, we decided to hire an On-the-Day Wedding Coordinator the last minute which turned to be the best decision we've ever made in the entire year of planning.
I felt like a princess on my wedding day. I had a nice buffet breakfast with my dad and sister-in-law and long chat and laughter with the photographers and makeup artists at the hotel during the preparation. Everything was already prepared the night before by Ms.
Kimberly Valdez, Senior Coordinator of Social Happenings
. My husband who's staying on a different hotel was never neglected. A coordinator was assigned to each of us to help out with our needs while Ms. Kim was checking the church and everything. I never felt even a single bit of worry! From the church, reception and even the gifts we received was well-organized. I even received a lot of compliments from relatives and friends about how fun our wedding was. I never had a bad experience with all the suppliers we chose but our coordinator was our favorite!
And why am I writing this? Weddings today have evolved so much from the time of our parents. It's so sad to know how some couples spend so much and then end up disheartened due to unorganized wedding. For my husband and I, a wedding coordinator is very essential. That's why I interviewed Ms. Kimberly Valdez of Social Happenings to give insights on what a wedding coordinator could do for soon-to-be married couples who are reading this blog.
1) Why you should hire a wedding coordinator for your wedding?
Not long ago, a wedding coordinator was thought of as a luxury, only used by the wealthy. Not anymore!!! It is essential in every event because each event entails so many details and can cause so many mishaps you can only imagine. Now a coordinator is essential to the well planned affair. It is no longer "trendy" to engage a coordinator it actually A MUST HAVE!
Why not entrust it to family, relatives or friends???
You also need to hire a professional coordinator for the very reason that family, relatives and friends are considered as your guests too. You invited them to celebrate with you. You want them to enjoy your big day and not assign them tasks that would take them away from the very reason of your invitation-celebrating your day with you. And do you imagine yourself screaming, bugging and nagging a friend or family member??? What if they forgot the wedding ring? or the souvenirs? can you get mad at them? Think about it :)
2) What are the roles of a wedding coordinator?
To take care of your big day and YOU are the first role of the coordinator. Absorb the stress and chaos of the whole preparation for you, your family and friends.
Next is to deal with your suppliers. Being experienced in negotiating contracts with caterers, florists, photographers and other suppliers, the coordinator saves valuable time and money. The coordinator can take advantage of discounts not available to private parties and avoid costly mistakes, while turning your dreams into reality.
Your coordinator will be there on the wedding day to take care of all the details. She will make sure the cake is delivered, that the florist, caterer, and other merchants arrive when they should. And, should something go wrong, she is there to handle it, allowing you to enjoy your day without worrying about last minute crisis. Depending on the situation, you may never even know about a problem that occurred until after your wedding, if any arise.
3) What packages does a wedding coordinator have?
Here in the Philippines the 3 most popular coordination services are Full, Partial and On The Day Coordination.
Full Coordination
are for couples who are overseas or are very busy to even plan out anything for the big day. Just tell your coordinator what you want and let them take care of the rest. Booking suppliers, taking care of the documents needed and meeting with your suppliers. Remember though to make sure to approve all proposed ideas because IT IS STILL YOUR EVENT!
Partial Coordination
are for couples who has booked 4 or less suppliers for the big day (Church, Photographer, Videographer and Reception Venue). But suddenly don't want to deal with the stress of looking for the other suppliers and/or too busy to handle the rest of the details. Turn it over to a professional one to handle all of it -even your needed documents. But again, remember your approval is still needed for all proposed ideas :)
On The Day Coordination
- for couples who are actually all set with everything but needs someone to execute their dream day. However this shouldn't be limited on the day only, the coordinator should also double check before the big day if everything is all set, you might have overlooked minor details. They should also be the ones that should coordinate with your suppliers of their call times, services or products that needs to be delivered. On The Day, they should make sure that everything you wanted for your big day would be as is or even better :)
4) What are the qualities of a good wedding coordinator?
a. Someone who has a heart for it. Someone who is dedicated in this craft. Because when you entrust something as big as your wedding day, this person should be able to actually feel for you.
b. Trust is important in any relationship.- Do an online search about the coordinator, ask around if you belong to a wedding community or ask for a profile or credentials of the coordinator before hiring one to make sure that you won't entrust your event and money to a fly by night, good sales talker or to just anyone.
c. Your personalities should match. How can you relay what you want if he or she can't envision it. You should feel completely comfortable with the coordinator and feel assured that he or she completely understands what your needs are. Remember you have to be able to treat them as your friend and vice versa so that they know that you are entrusting something big and important in your life.
d. Creative- you don't want your wedding to be just another wedding. You want to make sure that your big day would be memorable not just for you and your spouse but for all of your guests. So whether you plainly have a color motiff, no theme wedding, it should still leave a beautiful impression and impact to you and your guests.
e. Experienced- someone who has been around for a long time or knows the ins and outs of the wedding industry would be someone more reliable than those that are new in the industry. You'll know if they seem familiar to your suppliers or when you start discussing details if they have further questions about what you got or what seems to be missing.
f. Well organized and have an eye for details- should be able to actually guide you in every aspect of what is needed and what isn't on the big day.
I hope this post will be of help to those who are planning their wedding. Happy Saturday everyone!