Review: The FaceShop Quick and Clean BB Cream
BB cream. How I missed you? I put my BB cream hype in temporary hiatus when I got pregnant because of paranoia. But now that I finally allowed myself to use one, I chose
The FaceShop's Quick and Clean BB Cream
. As some of you may know, I was really amazed with the results I got from my first BB Cream, the
SkinFood Aloe BB Cream
. Would my skin react the same with this one?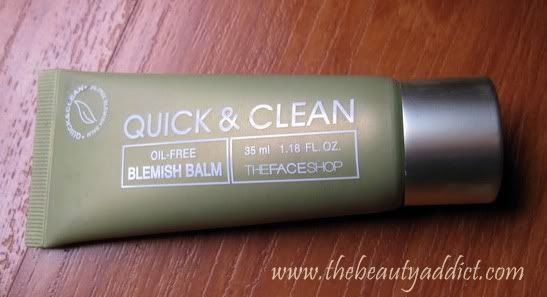 Quick and Clean BB Cream by The FaceShop
What it says at the back of the tube:

Formulated with the enhanced Quick and Clean complex and Malt extract, this oil-free protective moisturizer soothes the skin while providing natural coverage to hide flaws.
Instructions for use:

After your usual skincare daily routine, smooth a small amount over entire face.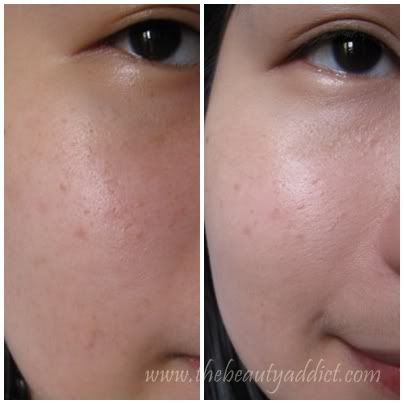 Here's a before and after photo so you could see its coverage. I have some pimple marks on my cheeks that doesn't really bother me so I normally don't put on a concealer when I'm out on a normal day. It has light to medium coverage for me as you won't really notice my scars when I have it on.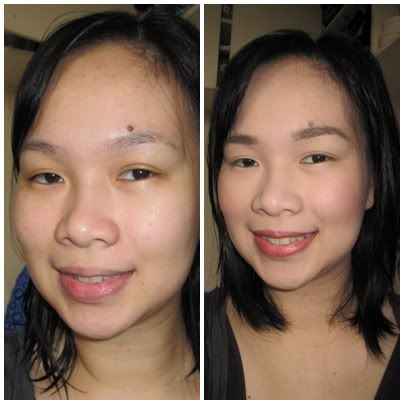 Full face before photo and the after with my 2 min. make-up. I wasn't able to do my eye make-up because I was pressed for time a while ago. This is just the Quick and Clean BB cream set with MAC Mineralized Skin Finish in Medium, Paul and Joe EyeBrow Pencil 02 (the old one), The Body Shop Autumn Leaves Blush and The Body Shop Lipstick (to be updated).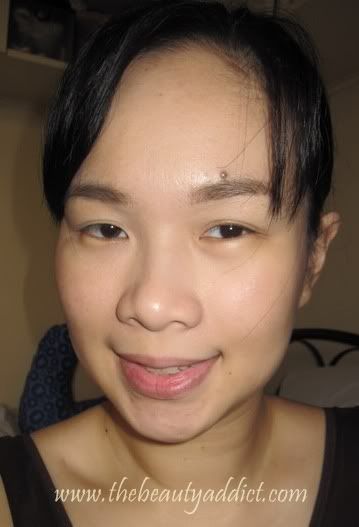 Here's my photo after 7 hours without retouch. I ate lunch and had my afternoon siesta already in this photo. Cheek and lip color gone but no oily face still.
What I like about this product:
It gives my face a glow that lasts for hours.
Doesn't feel heavy on my face.
A bit moisturizing.

No allergic reactions.
Cheaper than the other BB creams out there.
Available locally.
Gives a light to medium coverage but can be used as a base if heavy coverage is desired.
One tube will last long because a pea size is enough for the whole face.
It's oil-free. For those who have oily or combination skin type, this one is for you.
It has a light green-tea scent.

What I don't like:
Only 1 shade available. I believe it will only suit those with fair skin.

No SPF.

To sum up, I love this product as it gives a healthy glow on my skin without the hassle of retouching from time to time. I actually prefer to use it daily because my skin reacts positively to it. However, I wish it has SPF because I feel heavy when I put too much products on my skin. You might also find the shade weird at first because it appears grayish but it blends on the skin after a while. Lastly, it has a little bit of scent so this is not the product for those who can't tolerate scented products on their face.

Have you used this product? What's your favorite brand of BB cream?
P.S.
Today is Grandparents' Day. Greet your granpa's and grandma's for me and may God Bless them always!
Quick and Clean BB cream


Available at all The FaceShop branches nationwide
Php 595.00

Do you want to receive updates straight to your email?
Click here to subscribe.





Disclaimer: This product was purchased by the author. All stated above is based from the author's honest opinion from usage. Purchase on your own discretion.