Then our graduation day, the time to "
bring it on
" came…
We were asked to do anything we want to put on our portfolio. I contemplated on whether to do an avant garde or bridal makeup. In the end, I chose to do the
latter
because that's what I wanted to do initially as a makeup artist.
Remember my Jessica Simpson look-a-like model for the Smokey eyes topic? She's the same model assigned to me for our finals. Love her! She seemed like a pro to me. I didn't have a hard time doing makeup on her and she's not afraid to pose! :)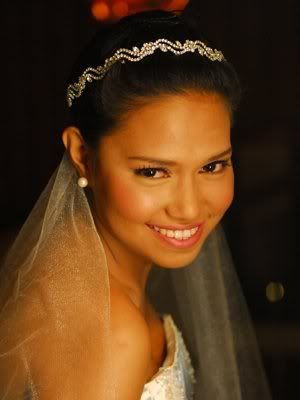 The final pic. Photo taken by Mr. Jeaves Gabiana of Basement Academy
Products I used
Face:
The Body Shop Aloe Day Moisturizer
Watercolors Color Corrector
MUFE Camouflage Palette
Loreal True Match (Beige) mixed with The Face Shop Dark Cocoa
Paul and Joe two-way foundation
Revlon Tranlucent loose powder
Eyes:
Coastal Scents 78 pc palette (browns)
Artdeco Kohl pencil
Maybelline Volume Express mascara
Coastal Scents gel liner (brown)
Cheeks:
Elianto Cream Blush (peach)
Artdeco bronzing powder 03
Lips:
Artdeco Lipstick (shade to follow)
Coastal Scents 78 pc palette (browns)
Here's the before pic
L-R (Jeaves Gabiana, me and Cheryl Cabanos). I am happy that I can now call myself a makeup artist.
With my classmates (Nikki, Shen, Stef), Jeave and teach. Miss you all!
This is definitely not my last post about the school because I'm going back for more practice. Yup! You've read it right. At Basement Academy, graduation is not the end =). You can still go back and sit in their classes if you want to refresh your knowledge or if you want to practice more for free. You just have to pay the model they're going to get for you.
That's all! Ciao
Visit www.basementacademy.com for more info