Attention Philippine Readers!
It's your chance now to acquire a new pair of Adidas shoes with a huge discount for a cause =D See below for details:
Spread the word =D
-------------------------
I got an award from our future lawyer blogger friend
Ms. Donnarence
. Thanks Donna! Like her, this is my first award ever since I started blogging =D I didn't expect to enjoy blogging that much. In fact, this has always been the first thing I check everytime I surf the internet haha. Through this, I've acquired so many info about beauty stuff and friends already =D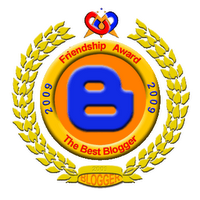 Now, time to share this award to other bloggers.
The rules are:
1. Take your award here

2. Put the logo on your post

3. Link the person who awarded you

4. Nominate at least 7 other bloggers

5. Add the links of those bloggers on yours

6. Leave a message for your nominees




I nominate:

I know some of you may have been awarded already but I want to add more to what you've got =D




Till tom...muahz!