Are you guys having a blissful weekend? As for me...Pau and I cleaned our new place almost half of the day. I got so tired but excited at the same time hehe. After that, we went to Bonifacio Highstreet to tour his balikbayan cousin.
Enough of the rambling! =D Last Friday, I went to Robinson's Galleria to buy some cheap cleaning stuff from the 88 store. But I saw Saizen first and I got curious. I was surprised to find a nail art section there. Yes...it is love but I find it so difficult to do because I don't have the tools. I've been wanting to do this coz I got really inspired by
Nikki's
nail art posts hehe =D
This Saizen store is located at the 2nd level East wing of Robinson's Galleria. Very huge and offers almost all of the household, school and decoration needs. All of their products are priced at P85/$1.7...If you plan to shop in this, be sure to check out the price in the regular stores first. Some are good buys but some are errrr...hehe. Don't be fooled by marketing strategy hehe.




I got the following from their nail art section:

Nail Art Sticker
Nail Art Dotter
Pointed Tweezer


--------------------------------------------------------------------------------------------------
And here's my very first decent nail art...


Tadah!

........


A close-up pic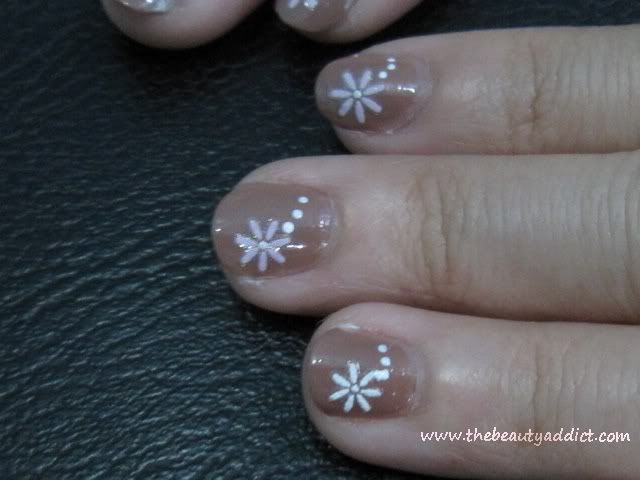 What I used:

The FaceShop base coat
Orly nude nail color
Elianto white nail color
The FaceShop top coat
The Face Shop flower nail stickers


Simple and not perfect but I'm proud of it =D Thanks for the tutorials Nikki!


Till tom everyone!