Did you know that:
Human trafficking is the third largest criminal industry in the world.
1.2 million children and young people under the age of 18 are trafficked every year for sexual exploitation and cheap labour, although this figure is thought to be much higher due to the underground dealings of the traffickers.
Reports show that sexual exploitation is the most likely purpose of trafficking.
Profits from this horrific trade reach US $27.8 billion per year.
The recent economic crisis has increased children and young people's vulnerability to trafficking and the numbers are on the increase.
In the Philippines, 60,000 to 100,000 children are trafficked annually (through both cross-border and international trafficking), and most of these girls are to be sexually exploited,
The Philippines also ranks fourth in the world in terms of countries with the highest number of prostituted children.

Distressful facts? - Yes. But are you guys already aware that there's something you can do to help?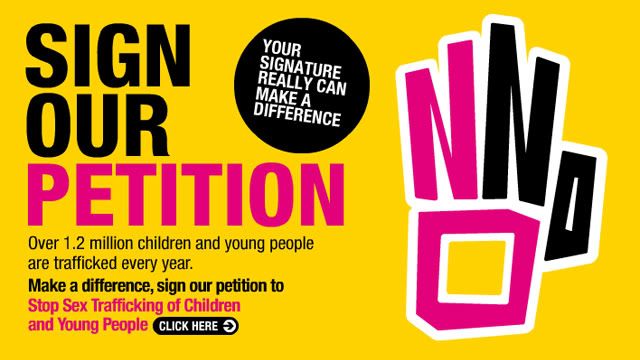 The Body Shop
together with
ECPAT
(End Child Prostitution, Child Pornography and Trafficking of Children For Sexual Purposes) recently launched effort against sex trafficking of children and young people. This campaign aims to influence and push governments to put more attention to it.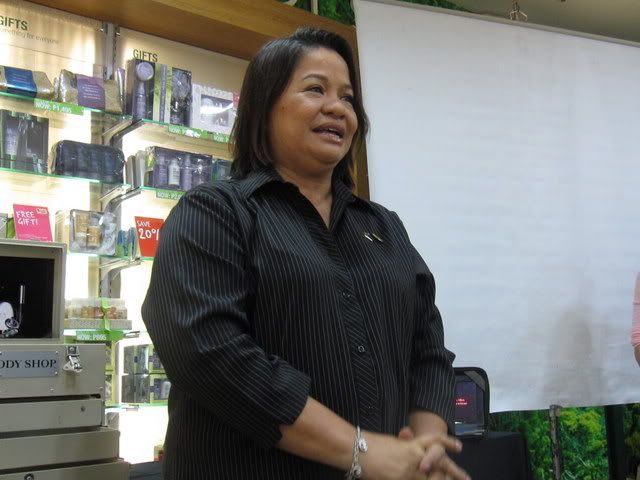 Ms. Josefina Alforque of ECPAT giving LYB Members information about sex trafficking.
What you can do?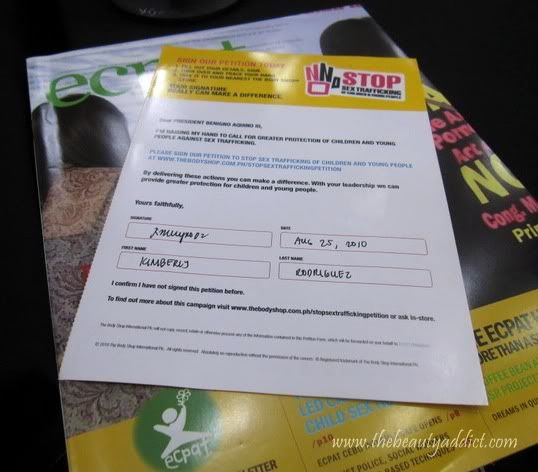 1) Go to the nearest branch of
The Body Shop
near you and sign the petition form. The signatured forms will be presented to the government in 2011 and sooner to the United Nations as they take the campaign globally. You can also sign online by clicking
here
.
2) Buy the
Stop Trafficking Bag
or the
Soft Hands Kind Heart Hand Cream
. All proceeds will be donated to ECPAT so they could raise funds for the victims of the crime.
3) Spread the word!
If you seek advise against sex trafficking or you want to report any suspicious incident, contact ECPAT thru the following:

Email: protect@ecpat.net/ecpatphi@i-manila.com.ph
Phone: 925.28.03
More info on The BodyShop website.
Did you like this post?
Click here to subscribe to The Beauty Addict