One of my favorite topics in makeup school was
Bronzing
. For me, it's is something exceptional and appears really good in photos. Here are some of my recent works: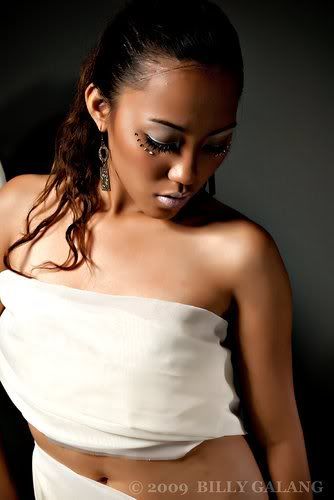 Currently I'm using the following to create a bronzed look:
Dark Foundations
MAC NC50
The Face Shop Dark Cocoa Foundation
Dark 2-way foundation or Translucent loose powder if you don't have one.
Shimmery Eyeshadows:
golds/silver/shimmery white..etc
Shimmery lipstick:
I don't own a lot of shimmery lipsticks so I use a nude lipstick as a base then dab it with a shimmery eye shadow then lipgloss
Contouring:
I use the darkest shade of concealer from Cinema Secrets.
Bronzers and Highlighters
: I use
Elf
Bronzing powder and Paul and Joe face color 01
Super Black eyeliner:
I use MAC BlackTrack Fluidline
Don't forget the falsies :)
I thought this is going to be a bad day coz it's a holiday and I'm working booo! But my dad called this morning and told me that my sister is also pregnant. She and her husband has been waiting for it for years and finally. God is really good. We even have the same month due haha. I told my dad…."see how mom is so close to God now? Almost all of our prayers has been answered when she left"…My sister told me that my dad cried when she said those same words to him.
Happy long weekend! Ciao