First, I wanna greet all the fathers out there a (belated) Happy Father's day!
I wasn't able to celebrate it with my dad (miss you so much dada =c ) but I have my second dad now whom we spent the entire day with.
Lunch:
we stuffed ourselves with scrumptious pizza and pasta in one of the newest Italian restoa in Megamall Atrium,
Gotti's ristorante
. This was my second time to dine at that bistro. I remember blogging about it a few months ago but I can't find it weeehhh :)
The facade. We didn't experience the ambiance inside nor was able to take a shot of the interior coz the mall was too crowded yesterday and it was so hard to look for a good seat.
Garlic Shrimp pasta
If we're not sure on what to order on a new Italian resto, hubby and I always opt for Garlic Shrimp pasta. It's one of our favorites. This one from Gotti's is good but it's kinda bland when I do the Ratatouille style hehe. I guess they made it that way so you could just add whatever you want to satisfy your taste.
Creamy Basil with Bacon
I tried only a spoonful of this dish so I can't comment well.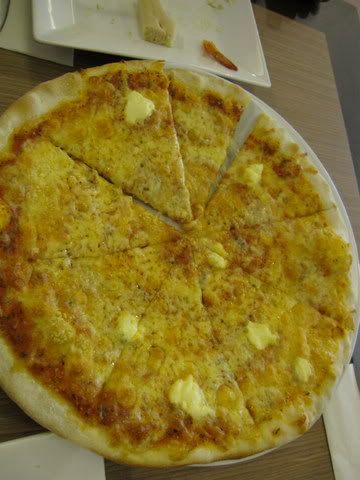 Mama's Quattro Formaggi (P295) -
blue cheese, parmesan, cream cheese and mozzarella
I love this! IMHO...it's comparable to Amici's 4 cheese pizza.
The Godfather
(Didn't try this coz I don't like onions and bell peppers in pizza)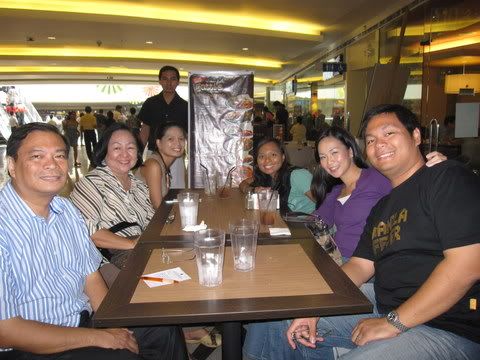 The family. The Gotti staff offered to have their poster included in our group pic. We asked him to join as well hehe.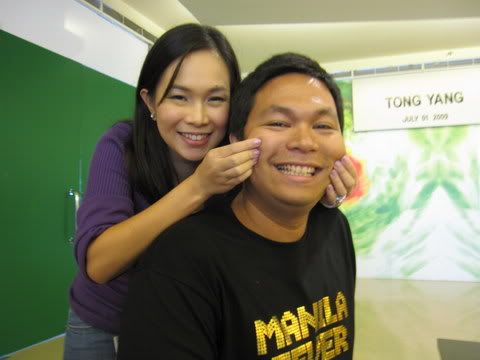 Me and my big love =)
Sorry if I wasn't able to take note of all the prices. But for all of these + 3 bottomless drinks? We paid P1400+/$28+. Reasonably priced right?
All in all, because of the taste, price and good service you'll definitely read a post about their other dishes from here again soon =)
How about you guys? I'd love to know how you celebrated father's day.
That's all. Ciao!