Hi everyone! This is indeed a good day right?

It's friday!
After days of bad weather here in Manila....the sun came out today :)
I finally decided to have my own domain =D www.thebeautyaddict.com. That's official! Sorry for the changes...I hope I didn't confuse you that much.

My MakeupGeek loots finally arrived yay!
&&&&&&&&&&&&&&&&&&&&&&&&
Are you one of those people who gets too enthusiastic when a new product hits your attention or after reading a good review about it? And after purchase, it'll end up as a display or hidden in your cupboard after 1-2 usage if it didn't meet your standards? Hehehe…I'm honestly like that before. But since we're in the era of recession, if I like something that is kinda hefty in my budget, I buy samples first. This way....I get to spend my money only on the things which I will actually use .

I know almost all of the beauty addicts like me have been drooling on MAC and Ben Nye pigments hehe or not =P? And the only online store I found that is selling samples of these is MakeupGeek. (Tell me if you know other stores please)
I placed the order April 21...So exactly 17 days for it to arrive =) For me...not bad huh!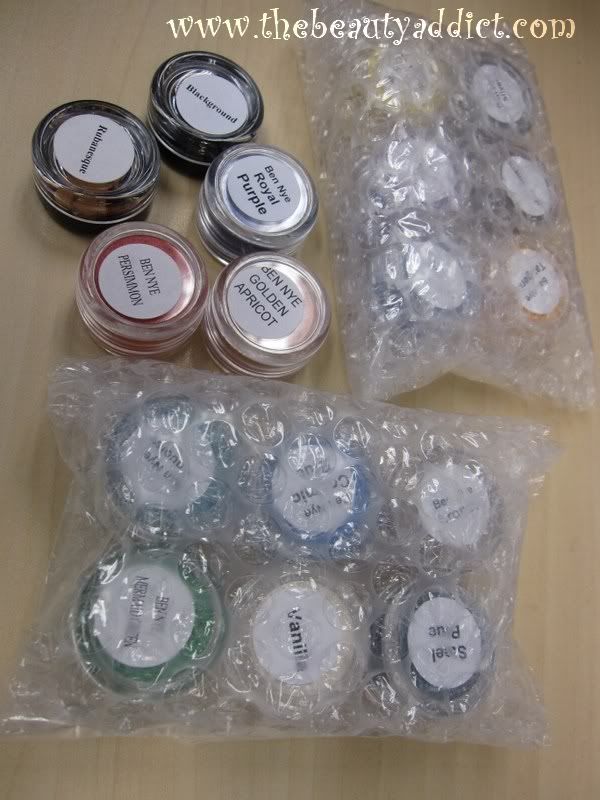 I ordered 17 samples. Each of them is labeled properly and securely taped in a bubblewrap. I got them in 100% good condition and experienced no hassle...I likey :)
MAC Pigment Samples:
Steel Blue
Vanilla
Violet
Cornflower
Mauvement
Ben Nye Pigment Samples:
Silver
Tangerine
Sun Yellow
Bronze
Mermaid Green
Turquoise
Cosmic Blue
Royal Purple
Persimmon
Golden Apricot
MAC Paintpot Samples:
Rubenesque
Blackground
I wanna go home now and try them!
If you guys are interested, you can check out Marlena's store
here
.
Happy weekend! * hugz *